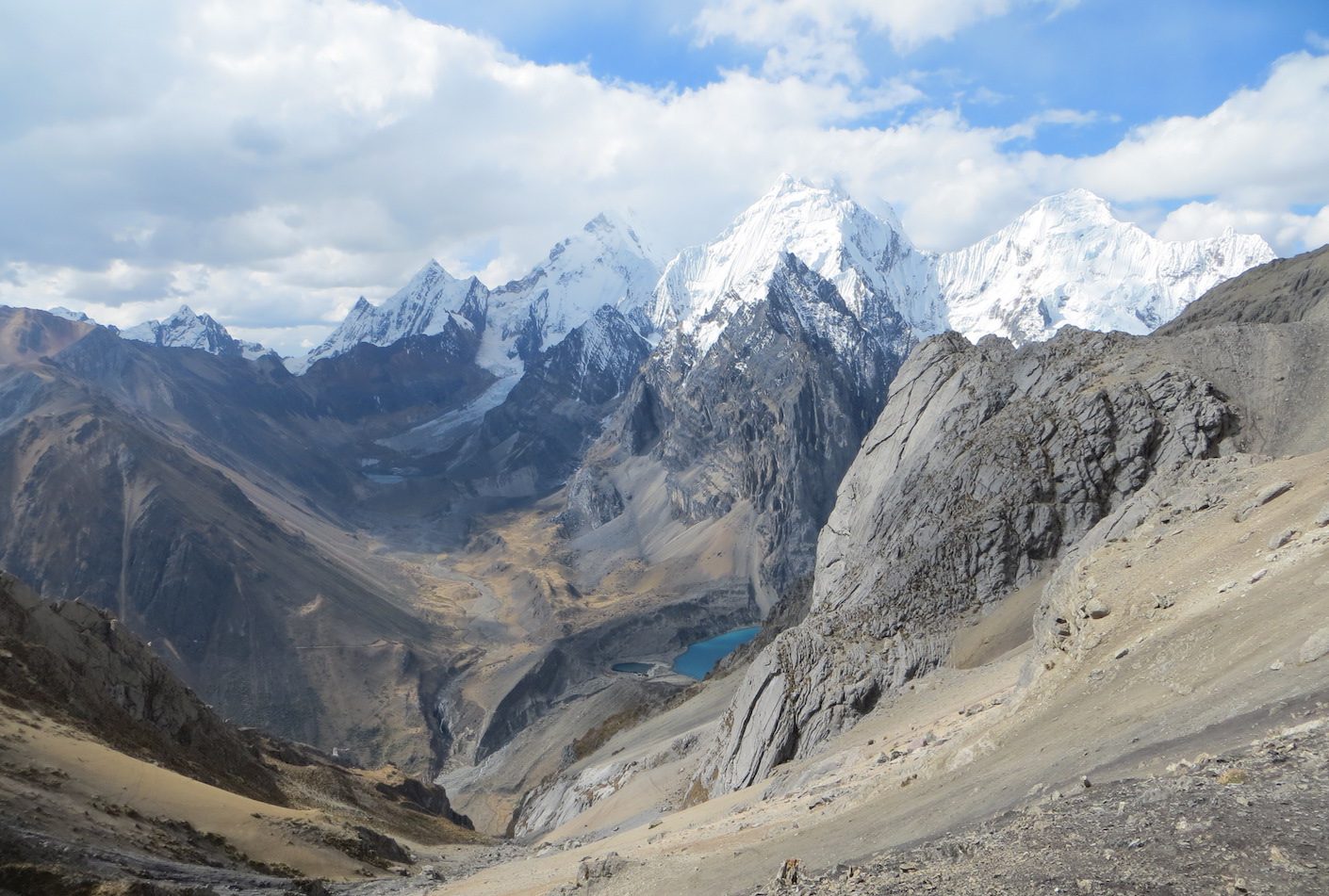 Huayhuash Challenging Trek
from
Join us on the Huayhuash Challenging Trek to fully appreciate the sheer scale and beauty of the snow-capped summits of the Cordillera Huayhuash, including Yerupaja, the second highest mountain in Peru. In this route we also include a side trip to the base of Siula Grande, location of the famous mountaineering story as told in the book by Joe Simpson "Touching the Void".  For the lover of high mountain regions, it would be hard to beat this exceptional trek.
---
Trip Duration    10 Days
Vacation Style

Holiday Type

Guided Tours, Tailor-Made

Activity Level

Challenging
All about the Huayhuash Challenging Trek.
Highlights 
Trekking around the Cordillera Huayhuash – one of the most beautiful treks in the world
Untouched mountain landscapes, intensely glaciated
Dreamlike campsites you will remember forever
Crossing 8 high altitude passes
Sidetrip to famous Siula Basecamp
Views to Yerupaja Grande (6634 m)
Character
The big circuit of the Cordillera Huayhuash lasts 10 days, almost always moves at altitudes over 4000m and overcomes at 170 km distance 8 passes between 4300 and 5000m.
Requirements
Surefootedness, a head for heights, a good physical condition, team spirit and willingness to leave your comfort zone. You should have hiked in the mountains already. In preparation for this trip, we recommend conditioning and extensive walks. There are many high passes, some over 5'000 m. The hiking times per day are between 4 to 9 hours and can vary depending on the condition of the group and weather. The height differences to be overcome in the climb are a maximum of 900 m, in the descent maximum 1150 m per day.
Best Season
The best trekking season in the Andes is from April to October, with rainy season in between. It is usually sunny and warm during this time. Due to the altitude, the nights can be quite cold (to minus 5 ° C).
Extra Time
Individual connection programs with Machu Picchu, Colca Canyon and much more are possible. Contact us!
The tour package inclusions and exclusions at a glance
What is included in this tour?
Items that are included in the cost of tour price.
Transports according to itinerary
Qualified and experienced guide (Spanish/English)
Cook and assistant
Donkeys and donkey driver
All meals during the trek
Good quality high mountain tent (2 or 3 person)
Sleeping Mattress
Dining tent, table and chairs
Cooking utensils
First aid kit and oxygen
What is not included in this tour?
Items that are not included in the cost of tour price.
Meals in Lima and Huaraz
Entrance fees to the Cordillera Huayhuash
Alcoholic drinks
Personal equipment
Medical care or insurance
Emergency rescue or evacuation
Additional expenses as a result of leaving the trek early
Travel insurance
Flights
Tips (optional)
Day 1

Huaraz - Matacancha

Our trekking adventure in the Cordillera Huayhuash begins. You are picked up from your hotel and we head south of Huaraz crossing the villages of Chiquian and Llamac. During our drive we pass traditional Andean towns with typical Quechua homes and rich farm land. After 6.5 hours of driving we arrive to our first campsite Matacancha (4150m). Before dinner you have some time to explore the area around the campsite and get ready for the next day.

Driving time: 6.5 hours
Meals included: Packed lunch, tea time, dinner


Day 2

Matacancha - Cacananpunta Pass - Carhuac Pass - Carhuacocha

Today we start hiking early and we reach Cacananpunta pass (4700m) after 2.5 hours. We hike back down to 4500m always enjoying views over Jirishanca (6126m) and Rondoy (5883m). Then we hike 2.5 hours up to Carhuac pass (4650m) from where we have good views of the beautifully stunning peaks of Yerupaja, Siula Grande and Jirishanca. From this vantage point, we descend to our next campsite at Carhuacocha Lake (4100m). On this campsite we have mountains all around us: Yerupaja Grande (6634m), Yerupaja Chico (6515m), Siula (6356m), Jirishanca (6126m).

Hiking time: 9 hours
Meals included: Breakfast, packed lunch, tea time, dinner


Day 3

Carhuacocha - Siula Pass - Huayhuash

This route takes you close to the most bizarre peaks and glaciers of the Cordillera Huayhuash and is the most scenic stage of the trek. From the western shore of the Carhuacocha lake, a gentle ascent to Lake Siula (4290 m), past the ice break of the glacier that descends from the Nevado Sarapo (6143 m) to the next lake (4650 m) and finally Siula pass (4950 m), a fantastic outlook with overwhelming summit panorama. We descent to the next campsite called Huayhuash.

Hiking time: 8 hours
Meals included: Breakfast, packed lunch, tea time, dinner


Day 4

Huayhuash - Portachuelo Pass - Viconga

The ascent to Portachuelo Pass (4750 m) is again dominated by magnificent mountain panoramas, this time on the ice-covered peaks of the southern Cordillera Huayhuash. Descent to the largest lake and the southernmost point of the trek, Laguna Viconga (4400 m). Here we have the opportunity to relax and swim in the hot springs right at the campsite.

Hiking time: 7 hours
Meals included: Breakfast, packed lunch, tea time, dinner


Day 5

Viconga - Cuyoc Pass - Pampacuyoc

Today we cross the highest pass of the tour, the 5020 m high Punta Cuyoc. The view is terrific – east to the Cordillera Raura with the huge plateau glacier, to the Nevados Puscanturpa just above the pass and – now from the south – to the highest peaks of the Cordillera Huayhuash, Sarapo, Siula and Yerupajá. After a short break, we hike the partly steep trail down to the campsite of Pampacuyoc (4500m).

Hiking time: 4 hours
Meals included: Breakfast, packed lunch, tea time, dinner


Day 6

Pampacuyoc - San Antonio Pass - Cutatambo

We are going up to San Antonio pass for about 2 hours. A steep and long ascent in difficult terrain. Arriving at the viewpoint of the San Antonio pass (5000m) you see the whole Huayhuash range all around. After enjoying the beautiful views we start descending the most difficult downhill part of the trek for around 3 hours. We reach the next camp Cutatambo (4300m).

Hiking time: 5 hours
Meals included: Breakfast, packed lunch, tea time, dinner


Day 7

Cutatambo - Siula Basecamp - Cutatambo

After breakfast we start walking straight up to the viewpoint of the famous movie scene "Touching the Void". We see where Joe Simpson tried to climb Siula Grande mountain. Then we return back to Cutatambo camp and relax for the rest of the day.

Hiking time: 7.5 hours
Meals included: Breakfast, packed lunch, tea time, dinner


Day 8

Cutatambo - Huatiac

We pass by an impressive waterfall this morning before hiking down the Calinca Valley to the village of Huayllapa (3'700m). Then we hike up 4 hours to reach our next campsite Huatiac (4'290m) with beautiful views of the mountains around us.

Hiking time: 8 Hours
Meals included: Breakfast, packed lunch, tea time, dinner


Day 9

Huatiac - Tapush Pass - Yaucha Pass - Jahuacocha

A long day with two challenging passes. First a rocky trail to Punta Tapush (4800 m). Again magnificent views, even on the slightly recessed Nevado Diablo Mudo (5'223m). We descend via the Gaspapampa Valley and Susucocha Lake (4'470m) with its diverse bird species. The final and partly steep and difficult ascent for the day is to Yaucha Pass at 4'850m. Finally descending to Jahuacocha lake (4150m). We camp next to the lake and enjoy the majestic mountains surrounding us.

Hiking time: 7 hours
Meals included: Breakfast, packed lunch, tea time, dinner

Day 10

Jahuacocha - Llamac - Huaraz

Our final day in the Huayhuash and we leave the campsite trekking east via the Jahuacocha Valley trail that continues along a water pipeline.  Then it is a long descent back to the Llamac valley and the village of Llamac. From there we drive back to Huaraz.

Hiking time: 5 hours
Driving time: 4 hours
Meals included: Breakfast, lunch
Everything you need to know about the Huayhuash Challenging Trek
Camping
During the Huayhuash Challenging Trek, you spend the night in two-person tents. The selection of camp sites depends on the reachable water points and takes into account – as far as possible – scenic spots. In the Cordillera Huayhuash there are countless dream camps on highland lakes at the feet of snow-capped peaks.
Meals
During the trek we pay attention to a healthy and high-calorie diet. Breakfast and dinner are cooked warm. For lunch, a box lunch is served. We can prepare vegetarian dishes on request.
Transport
We use minivans or comfortable 4×4 off-road vehicles, depending on the group size. 
Luggage
Donkeys carry your luggage during the trek, you only carry your daypack.
Packing list for the Huayhuash Challenging Trek
Our recommendation
Backpack
Bag to load on the donkeys
Head torch (with spare batteries)
Sandals
Well-worn in hiking boots
Down jacket
Rain jacket or poncho
Fleece or warm pullover
Comfortable clothes (quick dry, merino)
Trekking trousers
Long thermal underwear (merino)
Warm socks
Cap, gloves
Sunhat, sunglasses, sunscreen (min factor 40)
Hiking poles
Sleeping bag -10° comfort
Toilet paper and wet wipes
Personal medication travel kit
Water bottle and water purification pills
Extra Snacks (your favorite chocolate)
Extra money
Some basic rules: 
Do not climb too fast, allow several days for a gradual acclimatization
It can be very useful to take a break at around 3,000 m for a few days
Drink more than enough water
Do not drink any alcohol
Cure infections and other diseases beforehand
Do not take sleeping pills
Carbohydrate-containing foods, as they consume less oxygen than fats and proteins
Drink coca tea or chew coca leaves
Yes, there are very basic toilet facilities at the campsites of the trek.
No, there are no showers at campsites. The only option is at the Viconga hot springs where you can swim and relax.