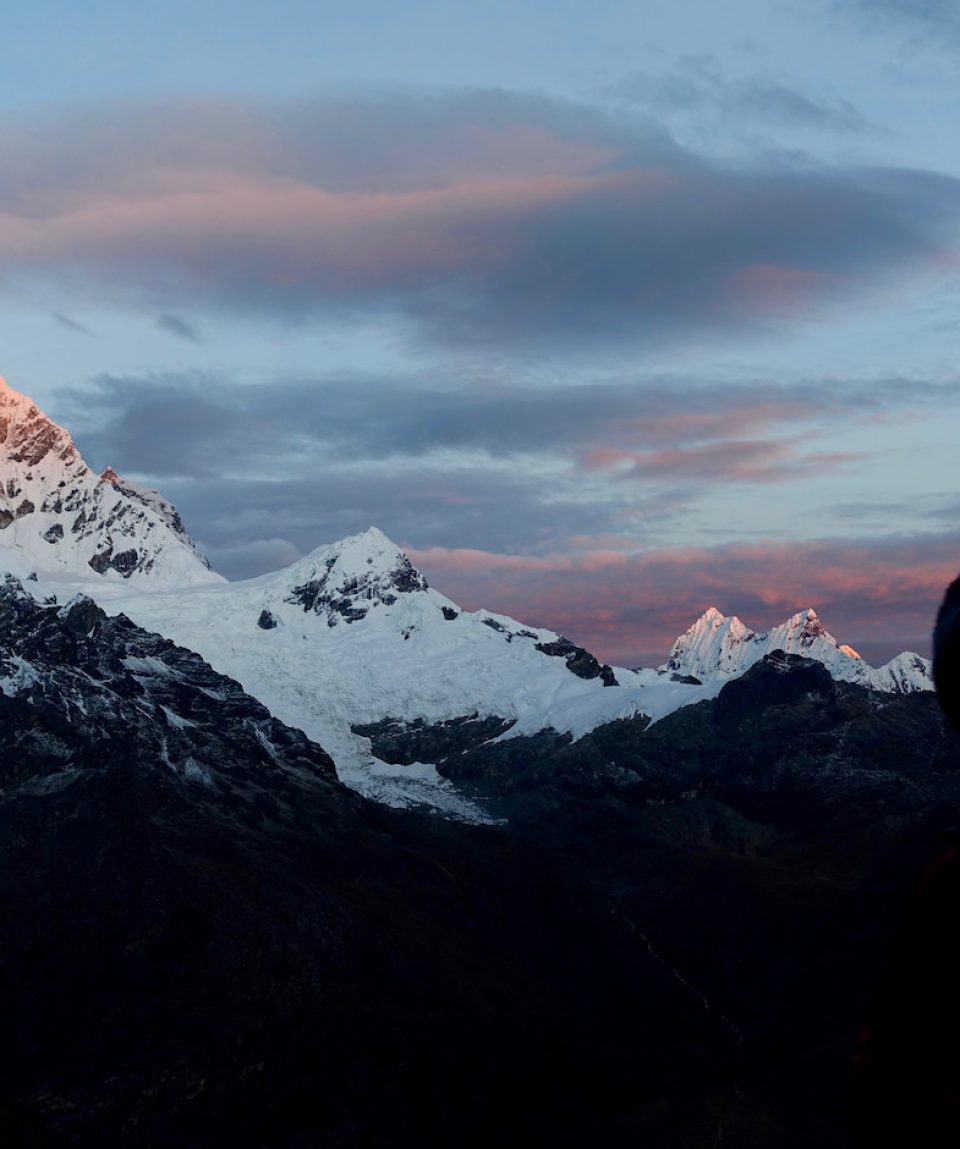 Mateo Climb 5'150m
from
The Contrahierbas massif is one of the less well-known mountain groups in the Cordillera Blanca and is located in the spectacular Ulta Valley surrounded by many of the biggest peaks like Huascaran, Chopicalqui and Chacraraju. In the southwest ridge, the first peak is the 5'150m high Mateo, which is often used as a training tour before bigger peaks and can be made as a day tour from Huaraz.
---
Tour Duration    1 Day
Vacation Style

Holiday Type

Guided Tours, Tailor-Made
All about the Mateo Climb 5'150m.
Highlights
Ideal acclimatization tour before higher peaks
First summit attempt for beginners
Sunrise with unforgettable views
Climb to Mateo 5'150m
Character
Mateo is a very attractive mountain and a great option for acclimatized trekkers who want to try a first attempt of a 5'000m peak. Also suitable for experienced mountaineers, in preparation for higher peaks. This is one of the only mountains that can be climbed from Huaraz in just one day. At the summit with its 5'150m you will be rewarded with great views of the Cordillera Blanca.
Requirements
Good physical condition, team spirit and willingness to leave your comfort zone. You should only consider these climbs if you are strong, with high fitness levels and able to carry a medium weight backpack on steep terrain over rocky, loose and uneven ground. In preparation for this trip, we recommend extensive walks and conditioning.
Best Season
The best trekking and climbing season in the Andes is from April to October, with rainy season in between. It is usually sunny and warm during this time. Due to the altitude, the nights can be quite cold (to minus 5 ° C).
Extra Time
Individual connection programs with Machu Picchu, Colca Canyon and much more are possible. Contact us!
The tour package inclusions and exclusions at a glance
What is included in this tour?
Items that are included in the cost of tour price.
Transports according to itinerary
Qualified and experienced guide (Spanish/English)
Box-Lunch
First aid kit and oxygen
Group equipment
What is not included in this tour?
Items that are not included in the cost of tour price.
Breakfast, dinner
Bottled water, alcoholic drinks
Personal equipment
Entrance fees to Huascaran National Park
Medical care and insurance
Emergency rescue or evacuation
Additional expenses as a result of leaving the climb early
Travel insurance
Hotel
Flights
Tips (optional)
Day 1

Huaraz - Mateo - Huaraz

We pick you up early from your hotel at 03:00am and drive around 2.5 hours through the towns of Carhuaz and Shilla. We follow the road into the Ulta Valley where we drive up a steep zig zag to reach the impressive Punta Olimpica Tunnel at 4740m. The climb starts from the left side of the tunnel climbing up a rocky trail and over moraine rock, sometimes steeply, for around two hours until we reach the Mateo glacier where we put on our climbing gear and rope up. To get onto the glacier we have to initially climb up a 40m steep ice wall and the guide will fix a rope if necessary and help you with this. The rest of the route is a steady climb on mostly nice snow slopes up 40 to 50 degrees, mixed with some steep short sections of hard ice which the guide will help you with. It is around 2 hours climbing from the start of the glacier to the summit. On the broad summit you are rewarded with spectacular views of all the surrounding mountains and good photo opportunities. We descend back the same way and drive to Huaraz.
Everything you need to know about the Mateo Climb
Requirements
You have to be fit, healthy and well acclimated to climb Mateo. You do not have to be an athlete, but have a good level of fitness. As an indicator, you should be able to hike up to 8 hours with a considerably heavy backpack.
Meals
During the expedition we pay attention to a healthy and high-calorie diet. For lunch, a box lunch is served. We can prepare vegetarian dishes on request.
Transport
We use minivans or comfortable 4×4 off-road vehicles, depending on the group size.
Equipment
You need to carry your own personal gear and box-lunch.
Packing list for Mateo Climb
Our recommendation
Backpack
Head torch (with spare batteries)
Well-worn in mountain boots
Down jacket
Rain jacket or poncho
Fleece or warm pullover
Comfortable clothes (quick dry, merino)
Trekking trousers
Warm socks
Cap, gloves
Sunhat, sunglasses, sunscreen (min factor 40)
Hiking poles
Waterproof jacket and trousers (Gore-Tex)
Very warm and waterproof gloves (Gore-Tex)
Mountain goggles
Crampons
2 ice axes
Helmet
Harness
Carabiners
Water bottle
Extra Snacks (your favorite chocolate)
Extra money
Yes. You do not need special experience to climb Mateo. Your guide will show you everything you need to know on the glacier. However, it is very important that you are already acclimatized, in good physical condition and in fitness.
Yes. If you do not have your own equipment, we will be happy to equip you with crampons, harness, helmet and ice ax for a small surcharge. However, you should have your own personal gear, such as mountain boots, waterproof pants and jacket, etc. We can gladly rent you missing equipment.
Depending on the speed of the group, we are back in Huaraz between 2 and 4pm.