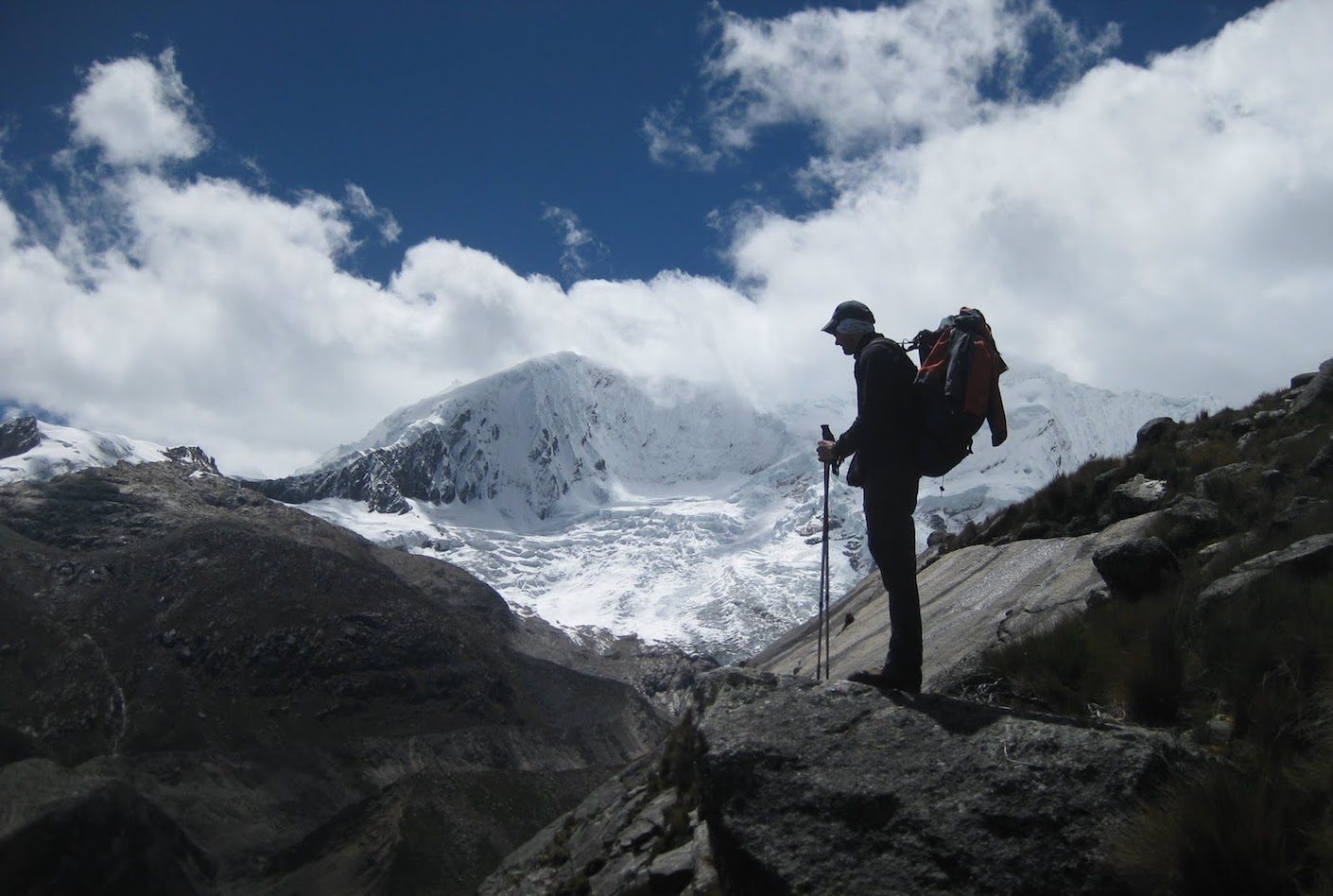 Quilcayhuanca Cojup Trek & Ishinca Climb
from
The Quilcayhuanca to Cojup Trek is an exciting high alpine short trek for strong hikers who want to stay away from busier trails. We hike to Laguna Churup, through the Quilcayhuanca valley and traverse over the Huapi Pass (5100m) into Cojup and Ishinca valley to climb Ishinca (5'530m).
---
Tour Duration   12 Days
Vacation Style

Holiday Type

Camping

Mountain

Snow & Ice

Guided Tours, Travel Packages

Activity Level

Challenging
All about the Quilcayhuanca Cojup Trek & Ishinca Climb.
Highlights
Acclimatization hike to Laguna Wilcacocha
Turquoise glacier lagoons of the Cordillera Blanca
Traverse Huapi Pass (5'100m) and Ranrapalca Pass (5200m)
Climb Ishinca (5530m)
Character
For acclimatization we start with a day tour to the Laguna Wilcacocha, where we can experience the spectacular views of the Cordillera Blanca and the local population. The Quilcayhuanca Cojup Trek with extension to the Ishinca Valley is a very impressive short trek in the Cordillera Blanca, which will reward you with spectacular views of the surrounding mountains and lagoons. During the tour we cross the 5'100 m Haupi Pass and the Ranrapalca Pass at 5200m. Finally, wet try to climb Ishinca (5530m).
Requirements
Good physical condition, team spirit and willingness to leave your comfort zone. You should only consider this expedition if you are strong, with high fitness levels and able to carry a medium weight backpack on steep terrain over rocky, loose and uneven ground. In preparation for this trip, we recommend extensive walks and conditioning.
Best Season
The best trekking and climbing season in the Andes is from April to October, with rainy season in between. It is usually sunny and warm during this time. Due to the altitude, the nights can be quite cold (to minus 5 ° C).
Extra Time
Individual connection programs with Machu Picchu, Colca Canyon and much more are possible. Contact us!
The tour package inclusions and exclusions at a glance
What is included in this tour?
Items that are included in the cost of tour price.
Transports according to itinerary
Bus tickets Lima – Huaraz – Lima
Accommodation in Lima and Huaraz
Acclimatization hikes according to itinerary
Entrance fees to Huascaran National Park
Qualified and experienced guide (Spanish/English)
Cook and assistant
Porters
All meals during the trek and climb
Good quality high mountain tent (2 or 3 person)
Sleeping Mattress
Cooking utensils
First aid kit and oxygen
What is not included in this tour?
Items that are not included in the cost of tour price.
Meals in Lima and Huaraz
Alcoholic drinks
Personal equipment
Extra porters for personal equipment
Medical care or insurance
Emergency rescue or evacuation
Additional expenses as a result of leaving the expedition early
Travel insurance
Flights
Tips (optional)
Day 1

Arrival to Peru

Individual arrival to Lima. You will be picked up at the airport and taken to the hotel. The rest of the day is at leisure and you can explore the city on your own.

Accommodation: Hotel

Day 2

Bus ride to Huaraz

The bus ride over 400 km into the Cordillera Blanca is varied and promising. First we drive along the Panamericana north through the impressive desert on the Pacific coast, then up into the highlands and over the 4020m high Conococha pass in the Cordillera Negra and descend to Huaraz (3060 m). When we cross the pass, the view to the mountains of the Cordillera Blanca is clear – one of the most impressive mountain landscapes in the world. Arrival in Huaraz and check-in at the hotel. On request, dinner together in the group and first briefing.

Driving time: 8 hours
Meals included: Breakfast, packed lunch
Accommodation: Hotel

Day 3

Acclimatization hike to Laguna Wilcacocha

We pick you up at the hotel and drive south to the Santa Cruz bridge. Here begins our hike through the picturesque highlands and small Andean villages. We slowly ascend to the Laguna Wilcacocha (3'700m), where we enjoy a 360° panoramic view of the whole Cordillera Blanca. We walk the same way back to the bridge, where our transport waits and brings us back to Huaraz.

Driving time: 20 minutes
Hiking time: 4 hours
Meals included: Breakfast, packed lunch
Accommodation: Hotel

Day 4

Huaraz - Pitec - Laguna Churup

We drive from Huaraz to Pitec (3'850m) passing through the traditional villages of Unchus and Llupa. After entering the national park we start ascending by following the path over a long ridge. The final 100m to the lake scrambling up a steep rock gully which some people may find difficult. We enjoy the silence and peace at Laguna Churup at 4'450m and return back to our first campsite.

Driving time: 1 hour
Hiking time: 6 hours
Meals included: Breakfast, packed lunch, tea time, dinner
Accommodation: Tent

Day 5

Pitec - Quilcayhuanca - Tullpacocha

We start our hike into the Quilcayhuanca valley. The valley is surrounded by glaciated peaks such as the majestic Nevado Adavita (5518 m), Nevado Tullparaju (5787 m), Chinchey (6222 m) and many more. We camp at the end of the valley at 4'100m. In the afternoon we can walk to the turquoise Laguna Tullpacocha.

Hiking time: 6 hours
Meals included: Breakfast, packed lunch, tea time, dinner
Accommodation: Tent

Day 6

Tullpacocha - Haupi Pass - Cojup Valley

Today while hiking up we have a wonderful view of the surrounding lakes, such as Laguna Tullpacocha and Laguna Chuchillacocha – known for its olive color. We hope to catch a glimpse of the pointed rock tooth Nevado Cayesh, but this is very often covered in clouds. After about 5 hours of walking we reach the traverse between the canyon Quilcayhuanca and Cojup – Paso Huapi at 5100 m. From here we can see the Nevados Huapi, Pucaranra, Tullparaju, Andavite, Cayese, Maparju, San Juan, Palcaraju, Ishinca and Ranrapalca. Now it's all back down to the Cojup valley until we reach our camp.

Hiking time: 8 hours
Meals included: Breakfast, packed lunch, tea time, dinner
Accommodation: Tent

Day 7

Cojup Valley - Pelorcocha

We leave our campsite in the Cojup valley and hike up to the beautiful Laguna Pelorcocha at 4'800m. On the bank we build up our camp. From this point we have a very nice view of the Nevado Palcaraju.

Hiking time: 6 hours
Meals included: Breakfast, packed lunch, tea time, dinner
Accommodation: Tent

Day 8

Pelorcocha - Ranrapalca Pass - Ishinca Summit - Basecamp

Today we climb over the moraine to the Ranrapalca Pass and descend into the Ishinca Valley. Here we put on our climbing gear and continue on the glacier to the peak of Ishinca (5'530 m). Then the descent takes place over the left side of the glacier. We leave the glacier before reaching the Laguna Ishinca and then continue to the base camp of the Ishinca Valley.

Hiking time: 6 hours
Meals included: Breakfast, packed lunch, tea time, dinner
Accommodation: Tent

Day 9

Ishinca Basecamp - Huaraz

After breakfast we hike back to Pashpa and leave the fascinating Ishinca valley.  Our private transport to Huaraz is already waiting here.

Hiking time: 4 hours
Driving time: 2 hours
Meals included: Breakfast, packed lunch
Accommodation: Hotel

Day 10

Extra Day

Today serves as extra day. Free day in Huaraz. On request farewell dinner with the group.

Meals included: Breakfast
Accommodation: Hotel

Day 11

Bus ride Huaraz - Lima

Bus drive back to Lima. Overnight in the hotel.

Meals included: Breakfast
Accommodation: Hotel

Day 12

Lima - return flight

Free day depending on departure times – return flight. 

Meals included: Breakfast
Everything you have to know about this trip
Camping
During the trek, you spend the nights in two or three person tents.
Hotels
In Lima and Huaraz, you are accommodated in a double room in good middle class hotels. A single room is possible for a surcharge.
Meals
During the expedition we pay attention to a healthy and high-calorie diet. Breakfast and dinner are cooked warm. For lunch, a box lunch is served. We can prepare vegetarian dishes on request.
Luggage
Porters carry the group equipment and food during the trek. You need to carry your own personal gear and lunch box.
Extra Day
In general, the extra day is used where it is necessary during the trek. It not needed during the trek or climb, you have an extra day to enjoy Huaraz.
Transport
For the route Lima-Huaraz-Lima we work together with the bus company Oltursa, which is a public bus of the highest category. The rest of the transports take place in minivans or comfortable 4×4 off-road vehicles, depending on the group size. On request and not included in the price, we can also organize a private transport for the route Lima-Huaraz-Lima or a flight (only in the morning).
Packing list
Our recommendation
Backpack
Head torch (with spare batteries)
Sandals
Well-worn in mountain boots
Down jacket
Rain jacket or poncho
Fleece or warm pullover
Comfortable clothes (quick dry, merino)
Trekking trousers
Long thermal underwear (merino)
Warm socks
Cap, gloves
Sunhat, sunglasses, sunscreen (min factor 40)
Hiking poles
Waterproof jacket and trousers (Gore-Tex)
Very warm and waterproof gloves (Gore-Tex)
Mountain goggles
Crampons
Ice axe
Helmet
Harness
Carabiners
Sleeping bag -10° comfort
Toilet paper and wet wipes
Personal medication travel kit
Water bottle and water purification pills
Extra Snacks (your favorite chocolate)
Extra money
Because it is a long-distance travel, a private travel cancellation insurance is recommended. Absolutely recommended is a foreign health insurance. For a longer trip a baggage insurance is recommended too.
Some basic rules: 
Do not climb too fast, allow several days for a gradual acclimatization
It can be very useful to take a break at around 3,000 m for a few days
Drink more than enough water
Do not drink any alcohol
Cure infections and other diseases beforehand
Do not take sleeping pills
Carbohydrate-containing foods, as they consume less oxygen than fats and proteins
Drink coca tea or chew coca leaves