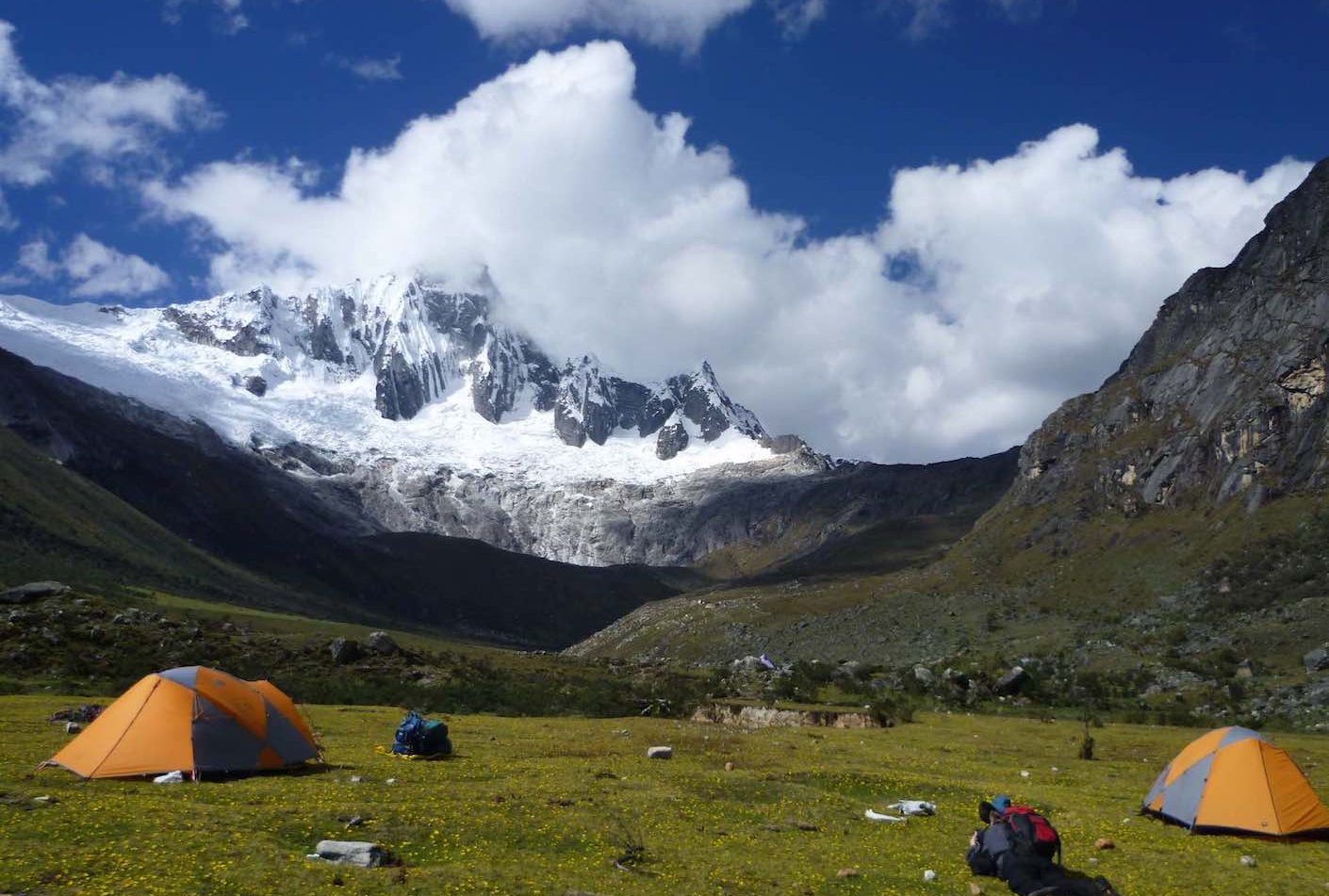 Santa Cruz Trek
from
The Santa Cruz Trek is one of the most popular trekking routes in the Cordillera Blanca. The trek takes you through fertile valleys, has views of magnificent, spiraling high glaciated peaks, flower-filled meadows and glacier-fed turquoise lakes. This world-famous circuit crosses from one side of the Cordillera Blanca range to the other through ascending the Punta Union Pass reaching an elevation of 4750m.
---
Trip Duration    4 Days
Vacation Style

Holiday Type

Guided Tours, Tailor-Made
All about the Santa Cruz Trek.
Highlights
The most beautiful mountains in the Cordillera Blanca
Panorama trekking on the famous Santa Cruz route
Campsites next to crystal clear blue lagoons
Unforgettable views from Punta Union Pass 4'750m
Character
The Santa Cruz Trek is a very impressive short trek in the Cordillera Blanca, which will reward you with spectacular views of the surrounding mountains and lagoons. During the tour we cross the 4'750m high pass Punta Union.
Requirements
Good physical condition, team spirit and willingness to leave your comfort zone. You should have hiked in the mountains already. In preparation for this trip, we recommend extensive walks. The hiking times per day are between 4 to 7 hours and can vary depending on the condition of the group and weather.
Best Season
The best trekking season in the Andes is from April to October, with rainy season in between. It is usually sunny and warm during this time. Due to the altitude, the nights can be quite cold (to minus 5 ° C).
Extra Time
Individual connection programs with Machu Picchu, Colca Canyon and much more are possible. Contact us!
The tour package inclusions and exclusions at a glance
What is included in this tour?
Items that are included in the cost of tour price.
Transports according to itinerary
Qualified and experienced guide (Spanish/English)
Cook and assistant
Donkeys and donkey driver
Emergency horse
All meals during the trek
Good quality high mountain tent (2 or 3 person)
Sleeping Mattress
Dining tent, table and chairs
Cooking utensils
First aid kit and oxygen
What is not included in this tour?
Items that are not included in the cost of tour price.
Bus tickets Lima – Huaraz – Lima
Flights
Accommodation in Lima and Huaraz
Meals in Lima and Huaraz
Entrance fees to Huascaran National Park
Alcoholic drinks
Personal equipment
Medical care or insurance
Emergency rescue or evacuation
Additional expenses as a result of leaving the trek early
Travel insurance
Tips (optional)
Day 1

Huaraz - Vaqueria - Paria

The first day of the trek you are picked up in your hotel and we drive through Carhuaz, Yungay and Caraz, into Llanganuco valley and then ascend the amazing 32 switch-back mountain pass road to Vaqueria. We start our trek descending to the village of Huaripampa, where we have the opportunity to meet friendly Quechua people, take memorable photos of their traditional houses their farmland and colorful garments. Then we descend to our first campsite in Paria (3800m).

Driving time: 5 hours
Hiking time: 5 hours
Meals included: Lunch, tea time, dinner
Accommodation: Tent

Fahrzeit: 5 Stunden
Gehzeit: 5 Stunden

Day 2

Paria - Punta Union Pass - Taullipampa

On our second day will walk about five hours before reaching the highest point of this trek. The trail starts ascending towards Punta Union (4750m). This old trail was heavily used in pre-Columbian and colonial times as a route for transporting goods from the eastern side of the Andes to the main valley. As we approach the pass, you will enjoy amazing panoramic views down the Santa Cruz Valley to the west, and views of the Huaripampa Valley to the east. The peaks of Santa Cruz surrounded by Andean vegetation of Quenual, the snow-capped peaks of Paria and Taulliraju, Artesonraju and Huaripampa will all come into view. We will see Taulliraju mountain looming above us and on the other side its glacial lake. From this high point, it is possible to see Alpamayo, Artesonraju, Taulliraju, Rinrihircas, Chacraraju, Chopicalqui and Pucahircas. After a break we descend to our next campsite Taullipampa (4250m).

Hiking time: 7 hours
Meals included: Breakfast, lunch, tea time, dinner
Accommodation: Tent


Day 3

Taullipampa - Llamacorral

Today we walk around 5 hours before reaching our last camp Llamacorral (3750m). During this pleasant hike we can appreciate the following mountains: Santa Cruz, Quitaraju, Artesonraju, Alpamayo, Taulliraju and Rinrijircas. We will also pass the lakes Ischicocha, Hatuncocha and Arhuaycocha. The lake Arhuaycocha boasts one of the most spectacular views within the entire Cordillera Blanca.

Hiking time: 5 hours
Meals included: Breakfast, lunch, tea time, dinner
Accommodation: Tent

Day 4

Llamacorral - Cashapampa - Huaraz

We complete our 4 day trek by hiking down to the village of Cashapampa, which takes approximately 3 hours. As we descend, you will be able to notice a steady change in vegetation as we follow the river. Our transport will be waiting to bring us back to Huaraz.

Hiking time: 3 hours
Driving time: 3 hours
Meals included: Breakfast, lunch
Everything you need to know about the Santa Cruz Trek
Camping
During the trek, you spend the nights in two or three person tents. The selection of camp sites depends on the reachable water points and takes into account – as far as possible – scenic spots. In the Cordillera Blanca there are countless dream camps on highland lakes at the feet of snow-capped peaks.
Meals
During the trek we pay attention to a healthy and high-calorie diet. Breakfast and dinner are cooked warm. For lunch, a box lunch is served. We can prepare vegetarian dishes on request.
Luggage
Donkeys carry our equipment on the Santa Cruz trek. You will only carry your small backpack during the day.
Transport
We use minivans or comfortable 4×4 off-road vehicles, depending on the group size. 

Packing list for the Santa Cruz Trek
Our recommendation
Backpack
Bag to load on the donkeys
Head torch (with spare batteries)
Sandals
Well-worn in hiking boots
Down jacket
Rain jacket or poncho
Fleece or warm pullover
Comfortable clothes (quick dry, merino)
Trekking trousers
Long thermal underwear (merino)
Warm socks
Cap, gloves
Sunhat, sunglasses, sunscreen (min factor 40)
Hiking poles
Sleeping bag -10° comfort
Toilet paper and wet wipes
Personal medication travel kit
Water bottle and water purification pills
Extra Snacks (your favorite chocolate)
Extra money
Some basic rules: 
Do not climb too fast, allow several days for a gradual acclimatization
It can be very useful to take a break at around 3,000 m for a few days
Drink more than enough water
Do not drink any alcohol
Cure infections and other diseases beforehand
Do not take sleeping pills
Carbohydrate-containing foods, as they consume less oxygen than fats and proteins
Drink coca tea or chew coca leaves
We recommend that you arrive at least 3 days in advance to Huaraz and take day trips for acclimatization. Let us know if you want us to include some acclimatization trips in our offer.