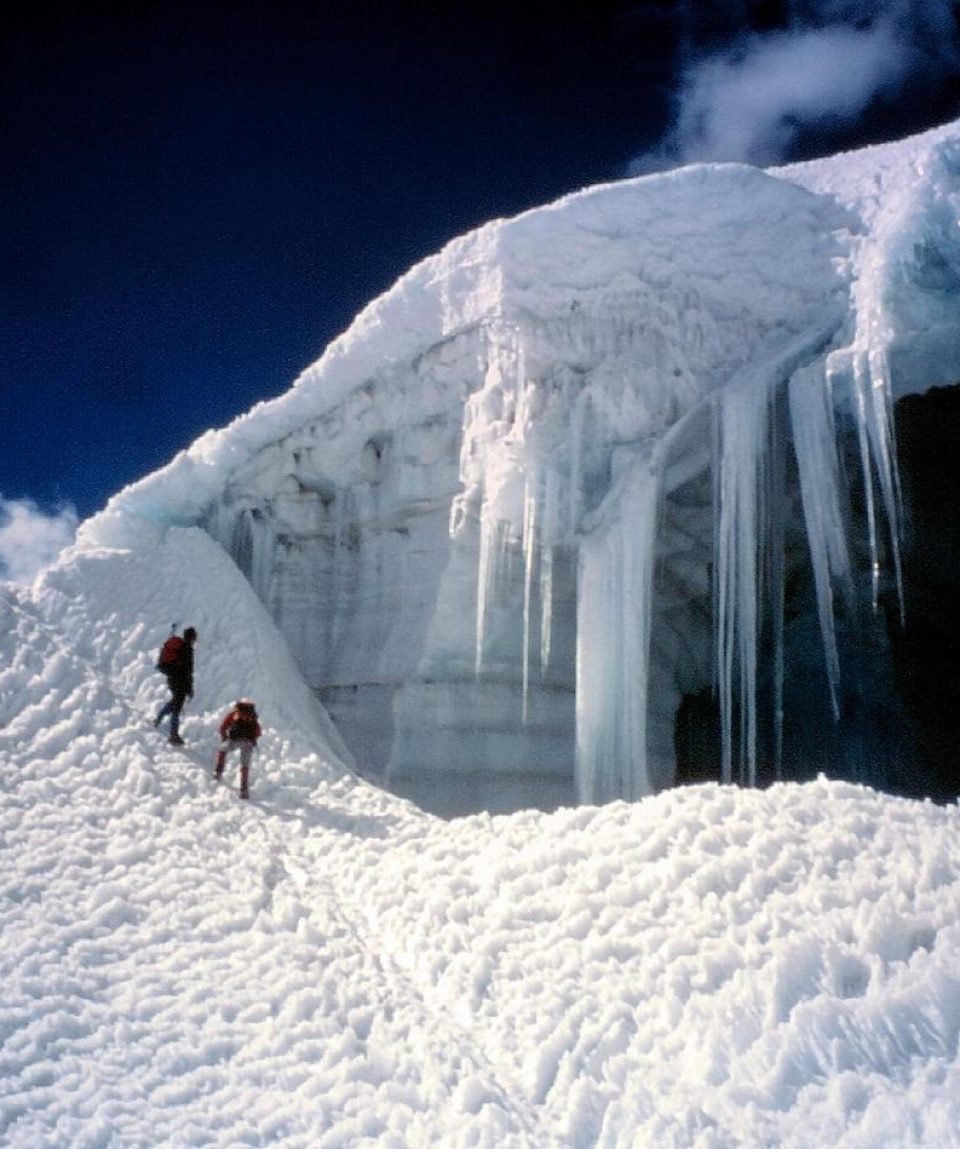 Urus & Ishinca Expedition
from
The Ishinca Valley, is a popular destination for climbers who want to get to 5000 meter peak. From the valley we have fascinating views of Ishinca, Urus, Tocllaraju, Ranrapalco, the Palcarajus and many more. In this program we climb first Urus (5495m) and then Ishinca (5530m).
---
Tour Duration   6 Days
Vacation Style

Holiday Type

Camping

Mountain

Snow & Ice

Guided Tours, Peak Climbing
All about the Urus & Ishinca Expedition.
Highlights
The most beautiful mountains in the Cordillera Blanca
Climb two peaks in the beautiful Ishinca valley
Character
Urus is considered an easy mountain and a good choice to start your climbing season or for people with none or little climbing experience. Ishinca is also a beautiful peak that is climbed from the same valley. To reach this mountain we will go through the ravine on the way to Llaca, where we see amazing views of mountains such as Huascaran (6768m), Hualcan (6112m), Ranrapalca (6162m) and Chopicalqui (6354m).
Requirements
Good physical condition, team spirit and willingness to leave your comfort zone. The climbing on the glacier is sustained with steep climbing made very demanding by the altitude. You should only consider these climbs if you are strong, with high fitness levels and able to carry a medium weight backpack on steep terrain over rocky, loose and uneven ground. In preparation for this trip, we recommend extensive walks and conditioning.
Best Season
The best trekking and climbing season in the Andes is from April to October, with rainy season in between. It is usually sunny and warm during this time. Due to the altitude, the nights can be quite cold (to minus 5 ° C).
Extra Time
Individual connection programs with Tocllaraju, Alpamayo and Huascaran climbs and much more are possible. Contact us.
The tour package inclusions and exclusions at a glance
What is included in this tour?
Items that are included in the cost of tour price.
Transports according to itinerary
Entrance fees to Huascaran National Park
Qualified and experienced guide (Spanish/Englisch)
Cook
Donkeys and donkey driver
All meals during the climb
Good quality high mountain tent (2 or 3 person)
Sleeping Mattress
Cooking utensils
First aid kit and oxygen
What is not included in this tour?
Items that are not included in the cost of tour price.
Meals in Lima and Huaraz
Bus tickets Lima – Huaraz – Lima
Accommodation in Lima and Huaraz
Acclimatization hikes
Alcoholic drinks
Personal equipment
Medical care or insurance
Emergency rescue or evacuation
Additional expenses as a result of leaving the expedition early
Travel insurance
Flights
Tips (optional)
Day 1

Huaraz - Ishinca Valley - Base Camp

We drive from Huaraz to the village of Pashpa. We then walk up the Ishinca Valley on a gently rising path to our camp at the head of the valley. This is a lovely walk, starting on a plateau with views of Huascaran, then passing through beautiful quenual forest. As we walk up the valley, it opens up, and we see Tocllaraju ahead. Base Camp is at 4'390m.

Driving time: 2 hours
Hiking time: 5 hours
Meals included: Breakfast, packed lunch, tea time, dinner
Accommodation: Tent


Day 2

Acclimatization hike to Laguna Akilpo

Today we get acclimatized to the altitude and hike up to beautiful Laguna Akilpo (4'200m). Then we get back to Base Camp.

Hiking time: 4-5 hours
Meals included: Breakfast, packed lunch, tea time, dinner
Accommodation: Tent

Day 3

Base Camp - Urus Summit - Base Camp

Today we climb the East face of Urus. Leaving camp at 4am, we make a steep climb directly up a ridge and across large moraine rocks until we reach the ice after 3.5 hours. There is a steadier gradient on the ice for one hour, then the last half hour to the summit is an easier rock climb. However, in some months there can be deep snow all the way to the summit. We arrive at the summit to see the sun rise on Tocllaraju, Akilpo, Palcaraju and Ishinca. A steep and long descent back to Base Camp by the same route.

Climbing time: 7 hours
Meals included: Breakfast, packed lunch, tea time, dinner
Accommodation: Tent

Day 4

Rest Day at Base Camp

Today we rest at Base Camp.

Day 5

Base Camp - Ishinca Summit - Base Camp

Today we climb Ishinca. We leave camp at 3am and undertake a steady climb, initially on a good path to Lake Ishinca. Then we continue hiking over more demanding, steep moraine rock until we reach the glacier. We put on crampons and rope up for the climb. Which route we climb will be decided by the guide according to the weather, experience and fitness of the clients. Some years, depending on the conditions of the glacier, there can be some hard ice, especially at the glacial face to climb up onto the start of the glacier. It is about 3-4 hours on the ice to the summit. Then we return back to Base Camp.

Climbing time: 9-12 hours
Meals included: Breakfast, packed lunch, tea time, dinner
Accommodation: Tent

Day 6

Base Camp - Ishinca Valley - Huaraz

We walk down the Ishinca Valley to Pashpa and return to Huaraz in our private vehicle.

Hiking time: 4 hours
Driving time: 2 hours
Meals included: Breakfast, packed lunch

Everything you need to know about this trip
Camping
During the climb, you spend the nights in two or three person tents.
Meals
During the expedition we pay attention to a healthy and high-calorie diet. Breakfast and dinner are cooked warm. For lunch, a box lunch is served. We can prepare vegetarian dishes on request.
Equipment
Donkeys carry equipment to Base Camp in the Ishinca Valley.
Packing list
Our recommendation
Backpack
Head torch (with spare batteries)
Sandals
Well-worn in hiking boots
Down jacket
Rain jacket or poncho
Fleece or warm pullover
Comfortable clothes (quick dry, merino)
Trekking trousers
Long thermal underwear (merino)
Warm socks
Cap, gloves
Sunhat, sunglasses, sunscreen (min factor 40)
Hiking poles
Waterproof jacket and trousers (Gore-Tex)
Very warm and waterproof gloves (Gore-Tex)
Mountain goggles
Mountain boots
Crampons
2 ice axes
Helmet
Harness
Carabiners
Sleeping bag -10° comfort
Toilet paper and wet wipes
Personal medication travel kit
Water bottle and water purification pills
Extra Snacks (your favorite chocolate)
Extra money
All our programs are also bookable as a tailor made trip. Please contact us for more information.